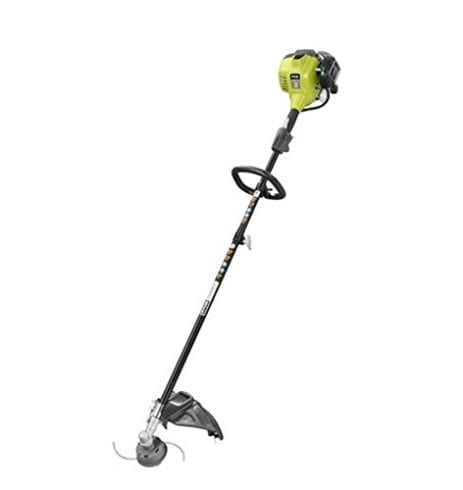 Light and maneuverable at 12 pounds 10 ounces, the Ryobi RY253SS is a 25cc, 2-stroke weed eater that walks the line between a consumer and professional-grade model. Equipped with a full crank motor for up to two times longer life, it also comes with a 3-year limited manufacturer's warranty.
Its double-line bump feed system takes 0.095" string and threads quickly with the real-easy technology. Simply thread the string and twist the head to refill the unit - resume trimming without disassembling anything.
The RY253SS model features Ryobi's universal brand fit attachments. You can attach an edger tool, blower, or even a tiller to the powerhead. Tackle any yard work with this powerful gas weed eater.
The Ryobi RY253SS is a dependable string trimmer that can handle weekly yard chores with relatively few complaints. The ability to multi-task and use various attachments delivers great bang-for-your-buck, making it one of the most economic gas weed trimmers for homeowners.
Pros
● Longer life than other gas models
● 18 inch cutting width
● Accepts universal expand-it brand attachments
● Zip start carburetor and fuel system
● Reel-easy technology for faster reloads
● Economic for a gas-powered weed eater
● 0.095 inch cutting string
Cons
● Common user complaint mentions fuel leaks
Key Specs
Engine Cycles
25cc, 2-cycle
Maximum Cutting Diameter
18"
Fuel Tank Capacity
12 fl oz
Cub Cadet BC280 Straight Shaft Gas Trimmer/Brushcutter
Easy to Handle Brushcutter
Cub Cadet's BC280 is a 27cc, two-stroke gasoline weed eater equipped with greater reaching ability, especially under shrubs and lawn furniture. The 16-pound model boasts a durable full crank motor that delivers smooth, reliable power to the fixed-line dual head.
It's easy to use and control with an adjustable, padded D-handle. The easy load head clears through tough grass and pesky weeds with a 17" swath. It's also perfect for edging along flower beds. For more challenging jobs, switch to the included 8-inch, 4-tooth brushcutter tool to clean up heavy brush and small trees. Or multitask with any of the Trimmer Plus® attachments available through Cub Cadet retailers.
The BC280 offers smooth, reliable power and great reachability at a reduced price compared to the four-stroke BC490. This is the best gas weed eater if you're looking for a multi-use product at a moderate price.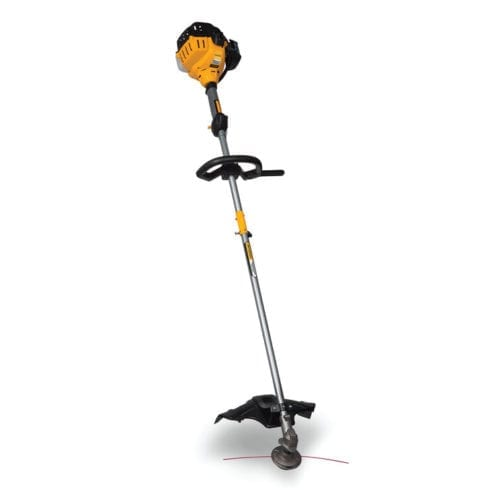 Pros
● 27cc engine with full crank crankshaft
● Easy load fixed-line head
● Trimmer Plus® attachment tool capable
● Included brushcutter attachment
● Adjustable, padded d-handle
Cons
● Debris shield could be bigger
Key Specs
Engine Cycles
27cc, 2-cycle
Maximum Cutting Diameter
17"
Fuel Tank Capacity
14.1 fl oz
---
Post time: Jun-01-2022