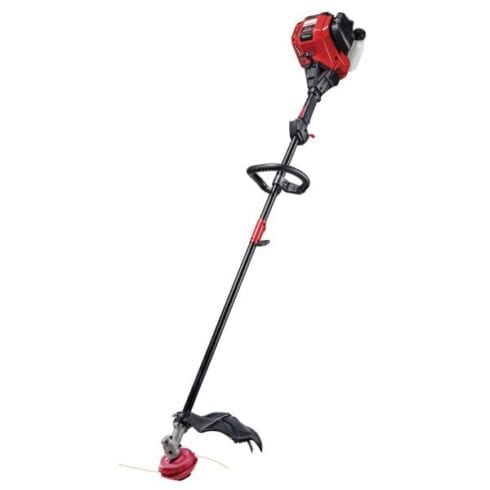 Coming in with the largest motor on our list, the Troy-Bilt TB304H is equipped with a 30cc, fuel-efficient four-stroke. This engine runs cleaner and produces less noise than similar models. The powerful 4 cycle motor and a 17" wide swath clear grass and brush quickly. Numerous Troy-Bilt technologies create a more effortless, more efficient experience when using this mower.  SpringAssistTM allows for easier pull starts on this power tool.
The Prime & GoTM starting system simplifies starting into a two-step process; the ClickNTrimTM double-line bump feed refills quickly to minimize downtime. To save on space and increase work efficiency, the well-designed powerhead accepts interchangeable TrimmerPlus and Expand-It attachments, turning your Troy-Bilt gas string trimmer into a hedge clipper tool, blower, pole saw, or tiller.
Troy-Bilt has put time and effort into designing a 4 stroke model that's powerful, comfortable, and easy to use while selling at an economical price point. The TB304H starts effortlessly, so you can quickly get on your work.
Pros
● SpringAssistTM technology for easy pull starting
● Fast, two-step starting
● Compatible with TrimmerPlus and Expand-It attachments
● High capacity head
● Clean, quiet 4 stroke motor
Cons
● Users have trouble with pull start cord engaging flywheel
Key Specs
Engine Cycles
30cc, 4-cycle
Maximum Cutting Diameter
17"
Fuel Tank Capacity
15 fl oz
Craftsman WS205 Powered String Trimmer The Best Small and Mighty Trimmer
Just prime, choke and pull with this easy 3-step starting system. It gets you going quickly on your lawn care job. Purchase the electric start drill bit tool to make it even easier. The 25cc motor powers an easy-winding bump feed system. Simply tap the ground when you're trimming to feed the 0.095" line automatically.
The multi-position handle is adjustable along the straight shaft, making it comfortable to hold and easy to maneuver. You can easily trim hard-to-reach spots. As it's compatible with TrimmerPlus attachments and other brands, you can easily convert your trimmer into a lawn care tool best suited for whatever job you need to tackle.
For a budget-friendly option, the WS205 holds its own compared to the more expensive models on the list. It's an excellent option for anyone looking for an inexpensive, lightweight trimmer.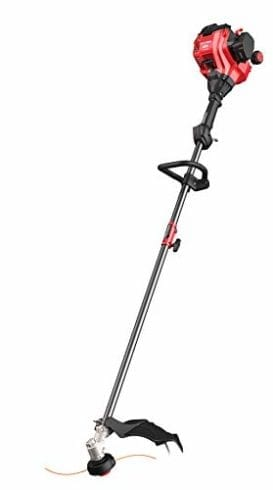 Pros
● Easy Start technology for easier pull starting
● Three-step start technology
● Electric start capable
● Multi-position adjustable handle
● TrimmerPlus attachment compatible
Cons
● Customer service lacking when problems arise
Key Specs
Engine Cycles
25cc, 2-cycle
Maximum Cutting Diameter
17"
Fuel Tank Capacity
10 fl oz
---
Post time: Jun-01-2022