What Makes a Great Weed Trimmer?
Weed trimmers used to be the staple tool of roadside workers, and for the more industrial type of clearing project from this line, trimmer technology filtered into smaller machines that were suitable for around the home.
Because there are so many around, choosing the right one can be hard, so having some up-front information can help heaps.
In the reviews, there were many welcome features from all of the entries. However, not all of these are geared toward an average household.
Yard Trimmer Types
There's a multitude of types of trimmers, and some come with plenty of weed eater attachments, although this doesn't always make them the best choice. Here are some of the various types: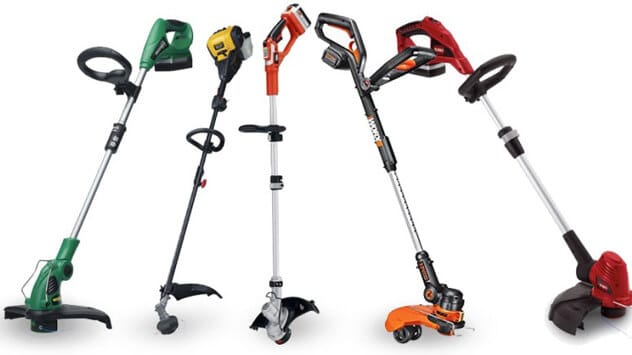 Battery-powered
Gasoline-powered
Electric – powered
Looking for a Yard Trimmer
As there are three types, consideration needs to be made what you need it for, because each type has distinct benefits and usage conditions.
Gas Powered
These are the closest to what is used for industrial or commercial purposes. In many cases, these are larger and have more power in them. One downside is they produce gasoline fumes and are much noisier.
Also, due to their bulkier size, they often require the use of a body harness to help support the engine and the weight of the cutting arm.
The engine might be hard to start for some users, and they will require more maintenance than other types.
Best for – Gas Powered is most suitable for more substantial jobs, which will take you longer than 30 minutes to complete. They are best suited for cutting tall grass, weeds, and heavy buildup around trees and fences.
Electric Powered
These are generally built around the home and often come with attachments that let them perform other functions.
Lawn edging being one of these, although they won't perform anywhere near as well as the best grass trimmer.
The major downside we found when doing our string trimmer reviews is the restrictions you have with an electric cable. This can pose a health risk in some situations, and it makes them hard to maneuver.
Best for – Electric string trimmers are best suited for smaller jobs such as edging, trimming while cutting shorter lengths of grass and smaller weeds.
Battery Powered
These fall in between gas-powered and electric-powered so you have the best of both worlds. We found during our weed eater reviews research; some specific models can be converted to an edge trimmer like the electric weed wackers, and also can be quickly turned into a lawnmower.
This can be ideal if you have short grass that needs a quick trim. Although, if you have a sizeable lawn, these won't be anywhere near as efficient or fast as the best lawnmower, which is built for the job.
One downside they have compared to gas models is they have a battery life of 30 minutes before the need for recharging or swapping batteries if that is a possibility.
Best for – Battery-powered string trimmers are great for tall grass and high weeds while being emission and maintenance-free.
We also found during our weed wacker reviews the electric models are great for trimming and edging. They are also light and straightforward to maneuver.
When looking to choose a String Strimmer, there is an excellent video by Consumer reports which shows each type in use and also gives a brief overview of the maintenance of every kind of string trimmer. This can be found by following the link below.
Although using string trimmers is pretty straightforward, there are tips you can use, which will let you use one like a professional.
There are also aspects of safety that must be considered for the person using the string trimmer.
On top of this, there are people in the vicinity of the surroundings itself which need to be cared for.
Weed Wacker Buying Tips
String trimmers come in straight or bent shaft varieties; a curved shaft model is often cheaper to manufacture. However, a straight shaft model makes it easier to reach under bushes and hedges.
Another feature on some straight shaft models is the ability to adjust the shaft length for the height of the person. Curved shaft models are generally fixed in length.
Various models have different feed mechanisms to hold the cutting string in place. Some models (mainly battery or electric) come with auto-feed, where a long coil is purchased at the time of replacement.
When looking at purchasing a weed trimmer, it is far better to hold one for a few minutes to see how it feels after a while.
Larger models can soon weigh you down with the weight and the vibrations they produce.
Weed wackers make light work of shredding weeds and long grass; however, that's not saying you won't feel the effects of working in the yard holding a piece of equipment without support.
---
Post time: Dec-01-2022